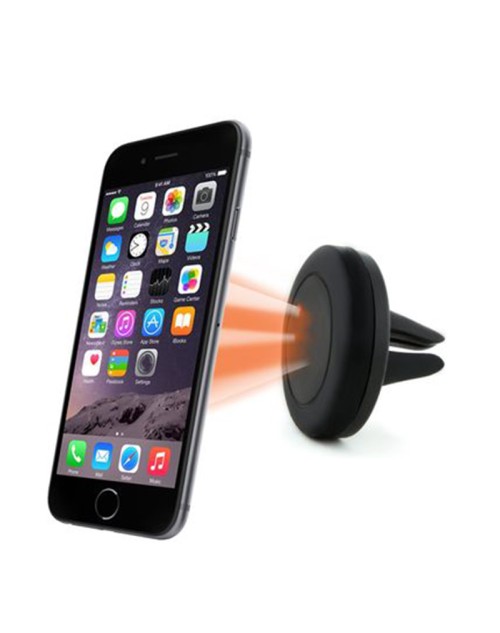 Magnetic Car Phone Holder Triangular Air Vent Mount Magnet Cell Phone Stand For iPhone 6 For Samsung GPS Car Kit for All Phones-Black

Features:
·Reinforced Magnetic Design differs from traditional car mount, it owns an intensive force of attraction which can hold any smartphones or mini tablets;
·High Quality Rubber Construction of this hold prevents your air mount from out harm; it will solidly hold the air vent and not move no matter how you swivel or rotate;
·Enhanced Magnetic Stick-on Functions well and makes your phone adsorb onto it steadily regardless of road vibrations or impacts;
·Flat Surface and can hold any phones, phone cases or GPS, an additional metal plate is included, allows flexible rotation to the best angle;
·Installation is much easier due to its simple and complementary design and high quality material grants long time use.
Brand New, High Quality
With antirust ball shaped base and magnetic piece
Magnetic piece strongly stick to the antirust ball shaped base and other ferric stuff
Small size, space-saving
360° rotation, free height and angle adjustment
Compatible with any mobile device, like cell phone, For iPad, GPS etc.
100% New Brand with High Quality.
Easy to install at Car Air Vent.
Keep your device at your fingertip.
Compatible with 3.5-6.3 inches smartphones, iPhone, Samsung, Nokia, HTC, Blackberry etc.
Vent mounted design fits most cars without impeding visibility
Cradle grip spread range: 51-75mm
4 directions rotatable cradle, allows you to easily adjust cradle horizontally or vertically
Color: Black
Net Weight: Approx.33g
How to Set Up:
1) Insert the mount in the Air Vent Mount in your car; 2) Place the magnet metal plate in your case between the cover and the phone, or stick on the round magnet metal on your phone or GPS;
3) And your phone is go to go!
Compatible with:
·Most devices and some popular compatible models are as follows:
·(Note: the metal plate and sticker may not work properly with devices having a curved back)
·iPhone 6/5S/5C/5/4S/4/3
·Samsung Galaxy S6/S5/S4/S3 and Note 4/3/2
·Nexus 6/5/4
Package Includes:
1x Magnetic Car Mount
1x Magnetic Plates
1x Magnetic Sticker