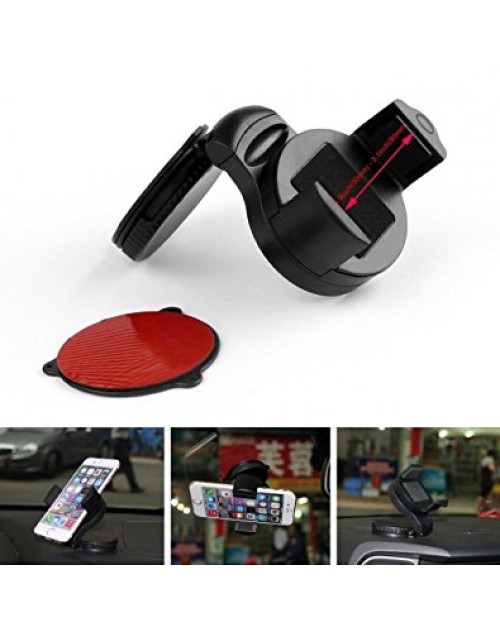 Windshield & Dashboard twist-able knobs and allow for optimal viewing from Multi-angle 360 degree rotation and easy tilt adjustment for optimal viewing angles.

Foam grips protect your phone from scratches and securely holds your phone in place; Compact design, applicable for phones and cases of 48mm - 90mm wide;

New generation in car mount / holder that locks to any smooth or textured surface, including dash board, High temperature ratings to withstand even the hottest of summers

Cushioned Soft pads gently protect your device. Rotate & Lock (Very Secure) Unique universal horizontal or vertical positioning - Vibration Free

Also works very well with your phone in its Protection Case.

The Universal 360° car holder has been designed to allow you to position your hand-held device horizontally or vertically, either on your windscreen or on the dashboard. The 360° car holder is a small and discreet windscreen and dashboard mount, which doesn't obstruct your view of the road. It's designed with a unique ball joint and bracket system, which allows you to use the holder on either your cars windscreen or the dashboard. Its rotating bracket allows you to use your device in either landscape or portrait positions.

Tags: New Universal Stick Anywhere Mobile Phone Car Windscreen/Dash Mount Cradle Mobile Phone Car Holder, Rotate & Lock to Windscreen- Fits all Mobile and Smart phones up to 8.5cm wide.