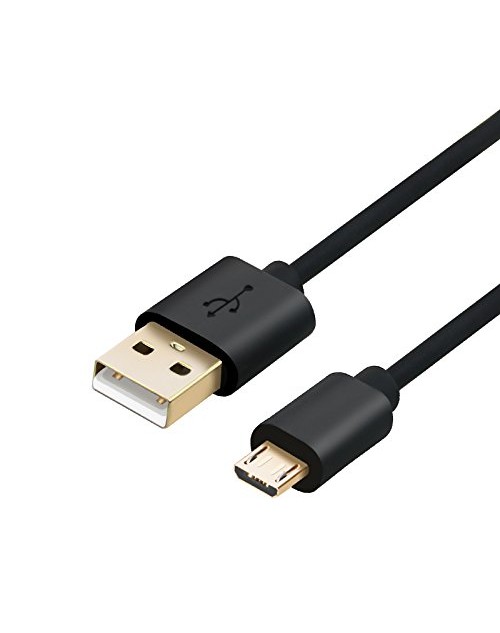 New Arrival Micro USB Cable Durable (1/m) High Speed USB Sync and Charger Cable for Samaung Galaxy,HTC,Sony Xperia,LG,Huawei,MicroSoft Lumia and others device
---
Product Code: Micro USB Cable Durable

Tags: New Arrival Micro USB Cable Durable (1/m) High Speed USB Sync and Charger Cable for Samaung Galaxy, HTC, Sony Xperia, LG, Huawei, MicroSoft Lumia and others device, ,
---
---
Compact stainless steel connector heads slot in easily but securely, Works best with mains USB adapter.

Sync and charge the most popular smartphones, tablets, MP3 players, PDAs, cameras, hard drives, handheld game consoles, controllers, printers, e-readers and other Micro USB-charged devices via your computer or USB charger.

Supports data transfer speeds of up to ~480Mbps, USB 2.0 enables fast 480Mbps data transfer, backwards compatible with older versions.

Black 1/M length of durable, flexible cord lets you connect and extend your devices further.

Package contents: 1/M Micro USB Cable Black.

Micro USB Cable Sync or charge the latest Smartphone, tablets, MP3 players, mobile phones, PDA's, digital cameras camcorders & more, from your laptop, computer PC or other USB-enabled device. Durable jacket shielding, gives this cable long-term use without noise or signal loss. It's protected against electromagnetic & radio-frequency, keeping a clear signal with little bandwidth loss for error-free performance. A tough yet flexible PVC jacket, well-defined fins & durable connector mould ensures secure fits & easy installs. Full USB 2.0 capability; including 480 Mbps data transfer speed & backwards compatibility with older versions.

Tags: New Arrival Micro USB Cable Durable (1/m) High Speed USB Sync and Charger Cable for Samaung Galaxy, HTC, Sony Xperia, LG, Huawei, MicroSoft Lumia and others device, ,